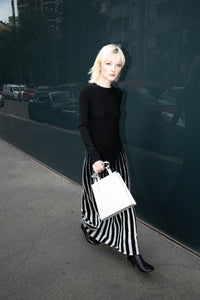 The brand
Flora Carmelin is synonymous with Italian craftmanship.
Pure forms and dynamic colours that can be worn season after season for a personal, high-class style.
A contrast between essential forms and playful linings with their fun, geometrical and unexpected motifs.
The high quality of leathers and craftmanship make Flora Carmelin bags durable over time. They are designed to accompany you throughout the day and to be comfortable in any situation, from the most informal to the most elegant. Beauty, quality and lightness, so as not to weigh you down during your busy days.
Discover more
In 2019 Flora Carmelin opens its headquarter in an early 20th century building, where a former leather goods manufacturer had opened its family business in 1949. Here, in the centre of Milan, a city that is symbolic of Italian style, our collections are created.
Showroom
Via Paolo Lomazzo 55 
20154 Milan
MM5 Gerusalemme
Phone +39 3480518852
hello@floracarmelin.com

Opening Times
Friday and Saturday 
10 am - 2 pm / 3 - 7 pm